---
Finish Line 7/21/2016
---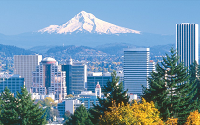 We're in Portland, OR!
Portland is the largest city in Oregon, and roughly 60% of the state's population resides in the Portland metropolitan area. Sitting in the shadow of Mount Hood, it is known for its liberal political values and environmental sustainability. Portland is sometimes referred to as "Rose City," unofficially dating back to an Episcopal Church convention in 1888 (and has officially been the city's nickname since 2003). While in Portland, consider checking out any of the scenic local races, such as the Portland Trail Series, which is a collection of 4-7 mile trail runs held throughout the summer to benefit the Forest Park Conservancy.  If you ran any time between Sacramento and now, look for a new badge on your profile!
We traveled almost 1500 miles to run all the way from the bottom of California to the top of Oregon.  I couldn't be prouder of the Laserfiche Team, and can't wait to see what our next trek will be!
---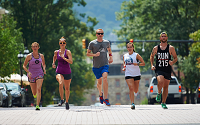 Featured Article: New Study Looks at What Millenials Want
Because Millennials now make up more than one-quarter of the U.S. population, many event organizers, advertisers, and industry analysts are interested in learning how they might shape the future of the sport. Read the report to find three of the main findings in the preliminary report.
---