---
Weekly Update 6/7/2016
---
We're in Sacramento!
We ran through San Francisco straight into Sacramento! Everyone who has contributed miles since 5/17 will be receiving the Sacramento badge, and you have until next (6/14) Tuesday at noon to vote on which city we should head to next.
---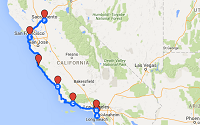 Progress:
We've run 647.9 miles.
We ran 107.6 miles in the past week.
We made it to Sacramento! Check your desks for some Ghirardelli Chocolate from San Francisco.
---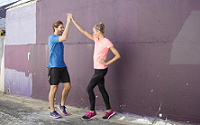 Featured Article: How to Run At Lunch
"If you're by yourself, try to clear your mind and focus on the benefits of logging miles midday. "Even 20 minutes of running can help improve your mood and productivity," says fuel editor Heather Irvine. "Take whatever time you can get.""
---
Featured Run: Rynerson Park
This park has a one-mile track that forms an oval stretching from one end of the park to the other. On a nice day, it's not unusual to see many people walking or running on this track. The track also has markers every quarter mile so you can track your progress. The park has a grassy area on the inside of the track that has a few fitness stations if you want to stop along the way.
---