---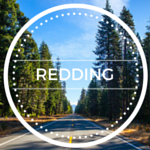 We've Reached Redding!
If you joined us for any part of our run from Sacramento to Redding, you'll find a new badge in the Badge section of your profile!
With mountains all around, miles of hiking and biking trails, a river running through it, and national parks nearby, Redding is an outdoor paradise for young and old alike. Cradled by Mount Shasta and Mount Lassen, Redding is also home to the famous Sundial Bridge, world-class fishing, and 200 miles of hiking and biking trails for all abilities. Head out on a day-trip to see the bubbling mud pots and boiling lakes in Lassen Volcanic National Park, or get refreshed by the waterfall at McArthur-Burney Falls Memorial State Park. Also, be sure to find out what fun events are happening— like the Redding Marathon, Kool April Nites, Shasta Lemurian Classic, Give Me Wings Century ride (one of the most challenging in CA!) and the Salmon Festival.
---